CAREER PATH
You look after our customers. We'll look after your career.
CREW MEMBER

In this role you'll have the biggest impact on our customers' experiences, whether you're explaining our choice of toppings, preparing a perfect patty, serving up our famously fresh fries, working on the till, taking deliveries or even cleaning, which means it's very important position here in Five Guys.

SUPERVISOR

You'll encourage and support the rest of your crew as they aim to master each station around the restaurant. You'll also be responsible for loads of extra stuff that keeps your restaurant running smoothly, like checking that all cleaning has been completed and that deliveries are stored properly.

Quick to step in when your crew needs you, you'll always be thinking about how you can make things even better for your customers.

MANAGEMENT

It's all about understanding that our customers expect nothing less than the best from us – and you'll lead your crew to deliver. That means making sure that the right people with the right skills are in your restaurant at the right time, and that everyone knows what's expected of them.

You'll help with opening and closing which are both important when it comes to setting your shift up for success. You'll spend a chunk of your time learning what it takes to run a profitable restaurant – we're talking managing budgets, accurate forecasting, ordering, and more.

THE RIGHT START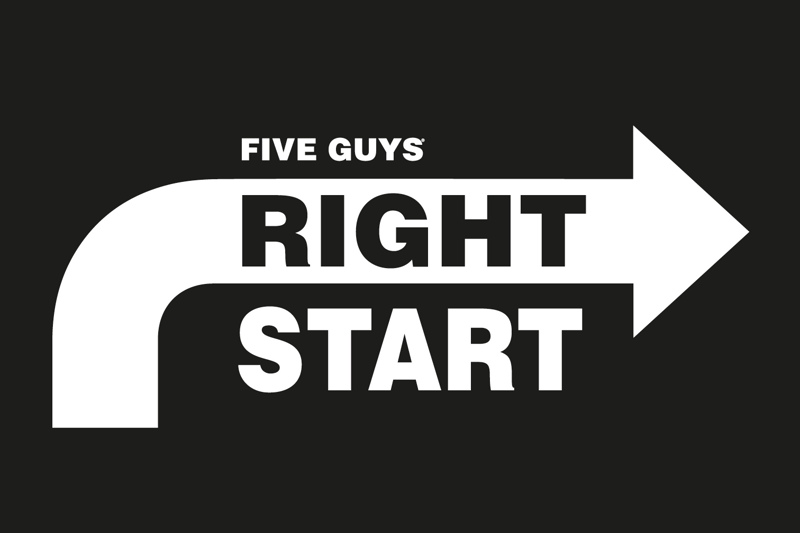 At Five Guys we believe in opportunity for everyone, and Training & Development is something that is paramount within our restaurants.
BURGER & FRIES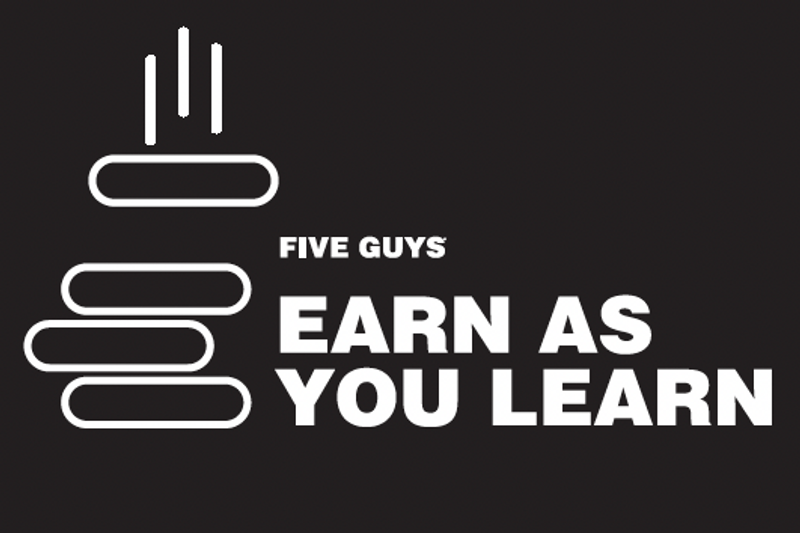 The training we have created and made available solidify your learning and make it easier for you to progress in your careers.
MANAGEMENT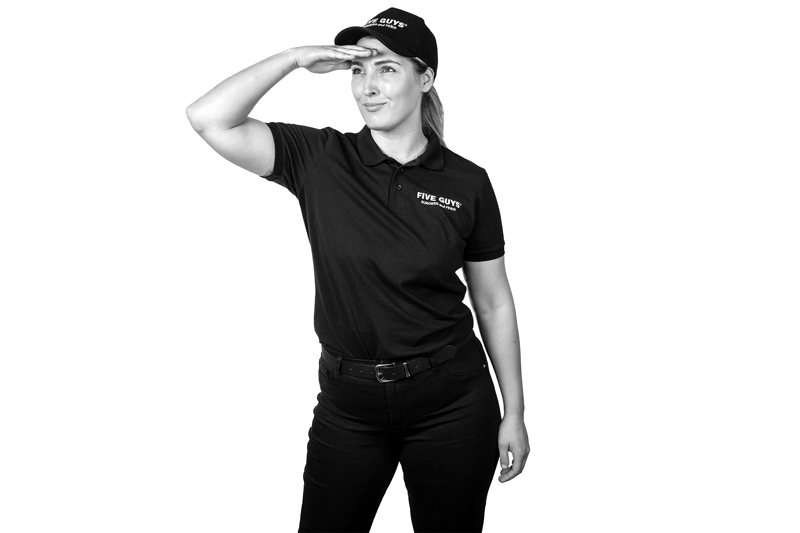 The training continues even after your first few months with us, and we have various resources which can be used to progress further within the business.
INTERNAL DEVELOPMENTS*

*average per year
QUESTIONS ABOUT WORKING AT FIVE GUYS
At Five Guys, we want to make sure you can feel entirely at home. And when you feel at home, you can be entirely yourself. If you bring your personality and energy to our culture, you can make Five Guys a more exciting, united place. Don't be shy to show off how amazing you can truly be at every stage of the recruitment process, and onwards.

Everybody is welcome at Five Guys!

You will be welcomed in a very friendly atmosphere. You get a tour of the restaurant. Your team will introduce themselves to you. Then you'll gradually get to know all the stations. But the most important thing is that someone will be with you the whole time you're starting out and will be at your side at all times.

Du kannst entscheiden, ob du Vollzeit (171 Std./Monat), Teilzeit (20-30 Std./Woche) oder auf 450-Euro-Basis (ca. 10 Std./Woche) arbeiten möchtest.

Im Restaurant arbeiten wir außerdem in einem Schichtsystem. Das heißt, dass deine Arbeitszeiten sehr unterschiedlich sein können.